Trending: Guestroom Bathrooms
Hotel Association of Canada
Being in the business for over 25 years and as a design studio, Patricia McClintock & Associés has seen trends come and go. They also believe in the premise that everyone deserves to experience great design and functional planning when travelling. And thus this should also apply to standard guestroom design, including the bathroom.
The guestroom bathroom is now starting to lose its stigma of only serving a single purpose and as such, is becoming a space one wants to spend time in, to relax and unwind. With the popularity of day spas, most people are transforming their own bathrooms into modern day spas, creating soothing and enveloping environments to wash away stress and daily struggles. It's becoming a cocoon to delight all of our five senses.
The actual size of typical bathrooms has not increased much. What are the tricks to make it look bigger? The simple answer is colour and good lighting. Pale coloured walls, preferably white or shades of cream are generally desired in bathrooms, as these colors reflect light. People want good light while grooming and wants good light to apply make-up, shave etc. People mostly want to feel they look good when leaving the bathroom. Whether you're going for a crisp white paint, or a trendy white wall covering or even rectangular white tiles, white will increase the perception of freshness and cleanliness. It increases the reflection of light. Good lighting is a must and needs to be strategically located. It's always advisable to have dimmers. Both down light and wall sconces are recommended. Having these on dimmers allows for creating different ambiances and moods.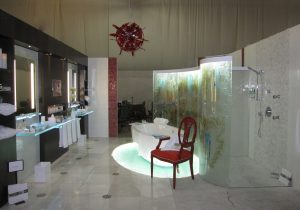 The sink and the countertops are becoming important focal points in bathrooms. Standard sinks are being eclipsed by vessel like sinks. These are available in a myriad of materials, surfaces types, textures and colours. Many magazines display the current offerings of sinks. These come in oversized shapes and sizes, sometimes even outshining the countertops. However they do feel that for practical and functional use in the bathrooms, it is still fine to install sinks that are under counter mounted thus creating a clean and uncluttered look and increasing the perception of size and space within the bathroom zone.
Countertops made of natural and organic materials are easily available on the market place. Stone, marble, quartz, granite are still preferred counter top material, but thick glass is rapidly becoming a desired product. It is solid and sturdy, while introducing both transparency and a bubbled water effect. The simple glass vanity top disappears in the space, while generating a Zen effect due to its transparency and fluidity. The bubble aspect of the glass, introduces the feeling of a flowing river and waterfall look. This feature enhances the spa appeal. Another trend is placing indirect lighting under the glass countertop. Countertops made of glass can be made to appear seamless. The texture of the finished product will enhance the design and style created. The overall space appears more transparent.
Present day faucets come in numerous styles, shapes and finishes. The faucet continues to have an important place in the overall look of the bathroom. They now find that faucets are more streamlined and sculpted giving the impression that water is oozing out and cascading smoothly through the faucet, such as waterfalls do through rocks. The hardware industry is inspiring itself from fashion to create faucets that now look like sculpted art; beautiful in themselves, but also very functional.
The bathtub is another "Pièce de Resistance" within the bathroom. Many types and shapes are available. The stand alone tub is back in fashion with the option of having a claw foot or not. It is now becoming the focal point. It is being viewed as a piece of furniture. One steps into the tub…it's a sensorial experience! The stand alone bathtub turns out to be also a very functional item. When replacement or refurbishment is required, there is no need to tear down the whole bathroom.
Bathroom floors were boring for a long time. The tiles were mostly small, square and bland. Today, larger tiles are used. Various shapes are available. By adding inserts, interesting patterns are created. Wood is another material now used on bathroom floors; Teak or other hardwoods and also bamboo wood, which is soft. A more exotic look is then obtained. Wood enhances the sauna look. In colder climates, wood floors can also be heated like tiles. This new trend contributes to increase comfort and pampering perception.
The manner in which the bathroom is accessorized contributes to the overall style and mood desired. Full wall mirrors or large and framed ones increase the sense of space. Modern amenities have become a must. In more contemporary styled bathrooms, TVs and lighting can be incorporated in mirrors. Hidden sound speakers diffuse music; various types of fireplaces are available on the market and placed in bathrooms. This adds another dimension to the mood implemented and accessorizing of the bathroom.